Welcome to Ultra Clean Aquariums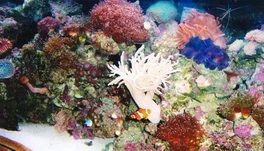 Ultra Clean Aquarium prides ourselves on the beauty and consistency of our tanks. We will work with you to create your vision of an ideal aquarium. By utilizing all aspects of light, space, water and aquarium life to create a beautiful piece of living art. Because all aquariums are delicate ecosystems, only diligent and knowledgeable service techs can ensure that the system is well maintained at all times. All new tanks are set up and designed buy the owner himself. The owner of the company will oversee most visits to make sure the work is to the Ultra Clean standards. We have been in the aquarium business for over a decade.
Our systems range from simple in design to more exotic in nature ex. Sharks, octopus, seahorses.
We are a company centrally located in OC (lake forest)so we can meet the needs of all our customers from Long Beach to San Clemente, big and small, we have great references so just ask. Now close your eyes and imagine what your tank will look like.
* Please call us with any questions or to arrange a free consultation